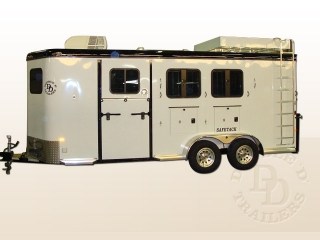 Our 3 Horse Bumper Pull Trailer Designs Meet Your Needs
At Double D Trailers, we are committed to meeting your needs in terms of safety, features and price. That's why we've taken the time and put in the engineering work to bring 4 and 3 horse bumper pull trailer designs to the market.
Straight load trailers just can't meet your needs if you are hauling three or four horses. In a straight load trailer, it's simple to meet the width restrictions on the road and safely transport one to two horses.
However, when the number of horses increases, so does the amount of restrictions for your trailer. It's difficult to create enough space for the horses and create safety on the road with a straight load trailer for more than two horses.
With a 3 horse bumper pull trailer featuring a slant load design, this problem is solved. Width restrictions can be met and you can easily see behind you while you are transporting the trailer.
Double D Trailer's 4 to 3 horse bumper pull trailer models feature a slant load. This helps utilize space inside of the trailer in order to create the ultimate hauling experience. It also features Safetack® technology which provides the maximum in safety for you and for your horses.
Want options? We've got many. Customize this trailer now with options.
Specifications
Weight (without added options)
4140 lbs
Overall Box Length
18'
Interior Panels

Safe & Durable 16 Gauge Galvalite

Inside Height
7' 4", optional 7'6"
Stall Width
40" measured at the windows. Approximately 31" perpendicular between dividers
Coupler
2 5/16" Ball
Wheels
Powder coated gray, optional aluminum
Tire Size
225/75R15 (D) Radial
Suspension
9,900 lb capacity independent suspension with EZ Lube never adjust brakes
LED Turn Signal Lights on Rear
(2) Standard up high
Windows in Dress Nose


20"x24"
Windows in Stall Area
(1 per stall - dropdown with bars)
24"x30"
Windows on Butt Side
(2 - sliding with screens)
20"x51"
Saddle Racks
3
Bridle Hooks
3
Custom Handmade Padding on
Dividers and Slant Wall
2" Standard
Interior Tie Rings per Stall
1
Exterior Tie Rings per horse
1
Lights in Horse Area on Remote Switch
3
Lights in Dress Area
1
Features
Z Frame Technology
2"x 8" Pressure Treated Pine Flooring on 16" Cross Members
Walk Thru Door to Horse Area in slant wall (specify location and direction of swing)
EZ Lube Durable Never Adjust Brakes, 12,000 lb capacity
Full Height Rear Doors with SafeTack Design
24" Diamond Plate Gravel Guard at Nose
Running Board Step Down Dressing Room Side
Carpet in Dressing Room Floor
SafeTack® Slant Load Design
Marker Lights on Fender
Extra divider on rear stall to prevent horses from backing out when rear doors are opened
Spare Tire inside dressing room
Z-Frame Slant dividers with hand made padding and safety slam latches
Horse Area Roof Vents, one per stall aluminum
Custom han made padding on dividers and slant wall
30" Dress Door Factory Built Door
SafeKick® Wall System Heat reflective SafeBump® Roofsystem in new leak proof fiber composite material
Insulated side walls in horse area for maximum temperature protection and safe, quiet ride
Floor Mats in Horse Area
Horse Area Roof Vents (One Per Horse)
Rechargeable Emergency Breakaway System
7-Pin RV Style Plug
Warranty
(8) Year on Structure

(2) Year bumper to bumper

(1) Year on non-Double D Manufactured parts
Want options? We've got many. Customize this trailer now with options.
Floorplans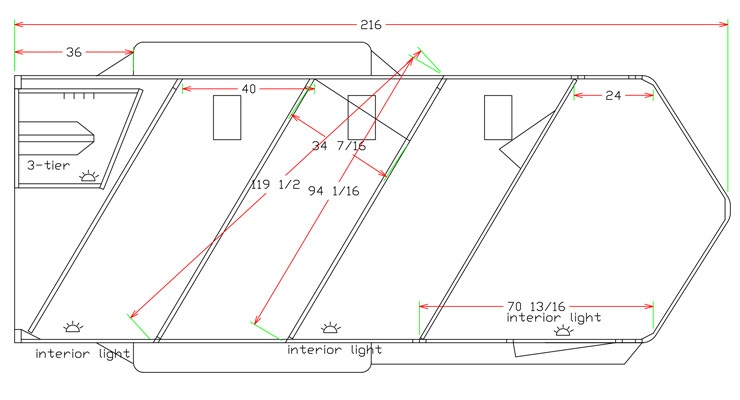 Download this Floorplan (PDF Document)