Horse trailer videos make online trailer shopping more convenient!
To better illustrate some of our horse trailer features, you can watch videos that demonstrate how a particular feature works, what it looks like, or how it's constructed. This allows you to see the benefit of each individual horse trailer feature.
Each video is hosted by lead designer and Double D owner Brad Heath. He will give you a personal tour of each trailer's features and explain the thought process behind each design. If you ever have questions for Brad, simply send him a note.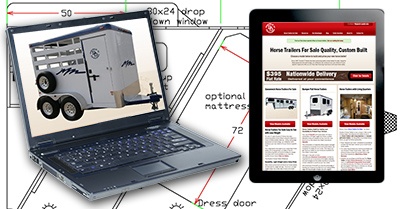 Check out our full list of horse trailer videos here.
Videos are a real bonus for all of you "visual" learners out there. If you're the type that doesn't like to watch videos online, you can read the text on the web page. There's something for everyone here at Double D!
There are several advantages to buying a horse trailer online with Double D Trailers:
Superior safety features – From hitch to tail-lights, our trailers are packed with the most innovative and effective safety features. Several of our technologies are patented so you know this is a one-of-a-kind trailer provider.
Save money with factory-direct sales – Each trailer we build is designed and constructed for a specific customer. Our new trailers are not available from dealers who add on expensive mark-ups in price. This factory-direct sales model means you pay for the features you want and nothing more!
More bang for your buck – Our base trailer models often offer much higher features than the competition. Plus, the quality and workmanship on our trailers can't be beat.
Top-notch customer service – Our clients have said time and again how impressed they are with the individual attention they get during the design and construction process. You won't get that level of support from a corner sales lot.
Nationwide warranty and service program – Since we sell trailers nationwide, we also offer a nationwide warranty and service program. If you have any concerns with your horse trailer we will send one of our experienced technicians to make it right.
Buy with confidence – Our trailers come with a flat rate delivery fee, bumper-to-bumper warranty, and 100% money back guarantee.
A custom horse trailer designed for YOU – Let that sink in for a moment. This trailer is going to be designed from the very beginning with you in mind.
Check out this video tour of a 3 horse gooseneck trailer.