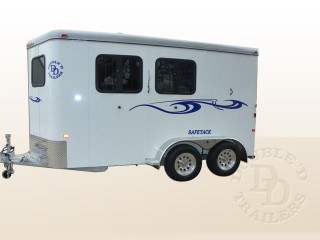 Learn What Makes Our Bumper Pull Horse Trailers Unique
In addition to providing plenty of space for 2 horses, your 2 horse bumper pull trailer offers the added benefit of storing your tack separate from your dressing room. This makes our bumper pull horse trailers a "must have."
There are common misconceptions surrounding bumper pull horse trailers with a slant load design. Some believe that the stalls are "too small" for larger horses and rear saddle compartments are dangerous.
While this may be true on most 2 horse bumper pull trailer models, the Safetack® technology that we use solves the issues of small horse stalls and dangerous rear tacks.
Double D Trailers hand-builds each 2 horse bumper pull trailer model designed for your specific requirements, including the size of your horse. Since you are able to customize your trailer and add width and height to the stalls, it's easy to insure that horses up to 17+ hands will safely ride in properly designed bumper pull horse trailers.
Regarding the issue of "rear saddle compartments are dangerous", we couldn't agree with you more! Most manufacturers' designs in 2 horse bumper pull trailer models are dangerous for loading and unloading – not only to your horses, but to you as well.
So what's the difference in the Safetack®?
Your

Safetack®

swings completely out of the way which creates a wide open, inviting space which helps reduce stress levels for your horse often associated with loading in a trailer.

Butt bars on straight load trailers create the risk of you being kicked. On the 2 Horse Bumper Pull Trailer

Safetack®

slant load, butt bars are eliminated and an extra partition is in place to securely hold your horse in position until you are ready to load or unload all the while reducing the risk of you being kicked.

Safely "walk on "your horse and "walk off" your horse which is a lot safer than having to back up a horse.

Easy to reach saddles and shorter wheel base trailer with lighter tongue weight insures your new 2 Horse Bumper pull trailer can be towed with most properly equipped SUV's.

Available in a rear facing design
Want options? We've got many. Customize this trailer now with options.
Specifications
Weight (without added options)

3420 lbs

Exterior Skin

Aluminum

Interior Horse Area

16 Gauge Galvalite

Overall Box Length
14'
Inside Height
7'4"
Stall Length
117" diagonal, 90" divider length
Stall Width
40"
Coupler
2 5/16" Ball
Wheels
Powder coated gray, optional aluminum
Tire Size
205/75R15 (C) Radial
Brakes
4 wheel
LED Turn Signal Lights on Rear

(1) up high per side and center bar signal light

Windows in Dress
(2 - sliding with screens)
20"x51"
Windows in Stall Area
(2

drop down with bars on head side. Windows and bars fold independent, features mid-latch easy to reach system)

24"x30"
Windows on Butt Side
(1 - sliding with screen)
20"x51"
Saddle Racks
2
Bridle Hooks
3
Custom Hand Made Padding on
Dividers and Slant Wall
2" Standard
Interior Tie Rings per Stall
1
Exterior Tie Rings per horse
1
Lights in Horse Area on Remote Switch
2
Lights in Dress Area
1
Features
Z Frame Technology
Walk Thru Door to Horse Area in slant wall (specify direction of swing)
EZ Lube durable never adjust brakes with 7,000 lb capacity independent suspension system
Full Height Rear Doors with SafeTack Design
24" Diamond Plate Gravel Guard at Nose
Running Board Step Down Dress Side
Carpet in Dressing Room Floor
Safe-Tack ® Load design, allows for entire back of trailer to be open for loading and unloading. Very safe
Side Wind Jack
Marker Lights on Fender
Extra divider on rear stall to prevent horses from backing out when rear doors are opened
Spare Tire located inside dressing room
Z-Frame Slant dividers with hand made padding and safety slam latches
Horse Area Roof Vents, one per stall aluminum
Custom handmade padding on dividers and slant wall
30" Dress Door with window (much more durable than an RV/Camper door style)
SafeKick® Wall System
Heat reflective SafeBump® Roofsystem in new leak proof fiber composite material
Insulated side walls in horse area for maximum temperature protection and safe, quiet ride
Floor Mats in Horse Area
Horse Area Roof Vents (One Per Horse)
Rechargeable Emergency Breakaway System
7-Pin RV Style Plug
Rear facing design (optional)
Warranty
(8) Year on Structure

(2) Year bumper to bumper

(1) Year on non-Double D Manufactured parts
Want options? We've got many. Customize this trailer now with options.
Floorplans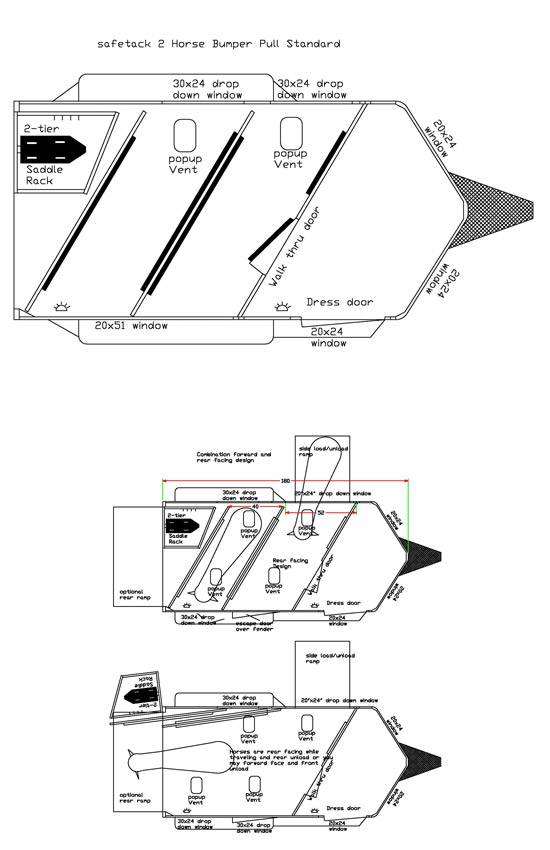 Download this Floorplan (PDF Document)